WIX Migration

Tips & Services
WIX is a cloud-based website builder that provides an excellent opportunity of building stunning websites without writing a single line of code. Its super intuitive interface and one of the best drag-and-drop website builders known are the top reasons for its popularity.
With Cart2Cart, you can automatically transfer your store data like products, images, categories, and other entities to WiX Stores in just a few mouse clicks. Even with absolutely no technical knowledge, you can try WiX migration for free and have a limited number of data types moved to a new store in minutes.
What data can be
migrated to/from WIX
Products

Product Categories

Customers

Orders

Coupons

Blogs

Blog Posts

Multistore
Choose your
migration way
Automated migration
Just set up the migration and choose the entities to move – the service will do the rest.
Try It Free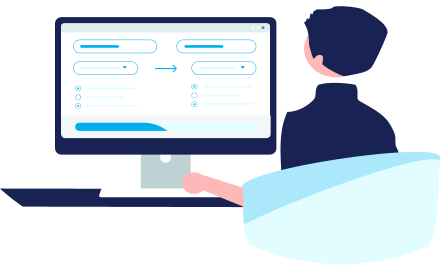 Data Migration Service Package
Delegate the job to the highly-skilled migration experts and get the job done.
Choose Package
Frequently Asked Questions
What steps do I need to take to start WiX migration?

The migration process is fully automated and can be conducted with minimal effort. Follow the Migration Scenario to get everything done swiftly.
Can I migrate my store to WIX?

Yes, absolutely. All you need is a live WiX store and WiX Stores app installed on it - simply click Start Free Demo and follow the steps in the Migration Wizard.
Are you looking to move your online store to Wix? Whether you're migrating to or from Wix, the process can seem daunting. But with the right tools and guidance, it can be a smooth transition.
---
Wix's ease of use is one of the biggest reasons why customers want to move to it. With Wix, users can create a website in minutes without having any coding knowledge thanks to an intuitive drag-and-drop interface. It offers a huge advantage to small business owners and individuals looking for an efficient way to establish an online presence.
In addition to its user-friendly interface, Wix offers a wide range of templates and design options. With over 500 templates to choose from, users can easily find a design that suits their business needs. Furthermore, Wix allows users to customize their website design using its easy-to-use editing tools, allowing them to make changes and updates to their website without any technical knowledge.
The extensive range of features and functionality offered by Wix is also a reason customers are migrating to the platform. There are many features built into Wix, such as the ability to sell products online, blog, and connect social media accounts. With just a few clicks, users can add even more functionality to their websites using Wix's extensive app market.
Wix also offers affordable pricing plans, making it an attractive option for businesses and individuals looking to establish an online presence without breaking the bank. With a range of pricing plans to choose from, customers can find a plan that suits their budget and business needs.
It's no wonder many businesses are choosing to migrate to Wix. But how do you ensure that your store's data and functionality are transferred seamlessly?
When considering a migration to or from Wix, it is essential to choose a migration tool that suits your needs and requirements. Factors to consider include the complexity of the data being migrated, the number of products and customers involved, and the level of customization needed for the new website. It is also crucial to ensure that the migration process is done correctly to prevent any data loss or website downtime.
One of the most popular migration tools is Cart2Cart, which supports migration to and from Wix from various e-commerce platforms, such as Magento, Shopify, WooCommerce, and more. Cart2Cart allows for a seamless transfer of data, including products, customers, orders, and other essential information, from one platform to another. The process is straightforward and requires minimal effort from the user, making it an ideal solution for those looking to migrate their website quickly and efficiently. Cart2Cart also offers a range of customization options, such as preserving order IDs and URLs, so you can maintain your SEO rankings and customer data.
But what if you're already on Wix and want to migrate to a different platform? Cart2Cart can help with that too. The service supports migrations to Wix from a variety of platforms, including Shopify, WooCommerce, and Magento, among others. This means you can easily transfer your store's data to Wix and start taking advantage of its features.
It's important to note that while Cart2Cart can simplify the migration process, there are still some things to consider when making the move. For example, you may need to update your website design and adjust your integrations to ensure they are compatible with Wix.
Cart2Cart also offers a free demo migration, allowing users to test the service before committing to a full migration. This is a great way to get a feel for the service and ensure that it meets your needs before investing in a full migration.
Overall, migrating to or from Wix can be a great way to take your ecommerce business to the next level. With the help of a migration service like Cart2Cart, you can make the transition smoothly and efficiently. So why not explore the possibilities of Wix migration today?
Ready to migrate to
your new dream store
Just set up the migration and choose the entities to move – the service will do the rest.
Try It Free
Data Migration Service Package
Delegate the job to the highly-skilled migration experts and get the job done.
Choose Package